Der Museumsraum ist ca. 6,00 x 10,00m groß.
Die Reihen sind alphabetisch gekennzeichnet. ( A, B, C...)
Die Fächer innerhalb einer Reihe haben Nummern. (1, 2, 3...)
Die Glasböden innerhalb eines Faches werden von oben nach unten gezählt.
So kann in einer Datenbank für jede Röhre ein Lagerplatz eingetragen werden.
Zur Vergrößerung und höherer Auflösung bitte auf das entsprechende Foto klicken!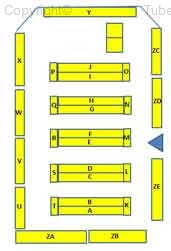 The size of the museum room is 6,00 x 10,00m
Each row has an alphabetic number. (A, B, C ...)
Each case within a row has a number. ( 1, 2 ,3...)
The glass shelves within a case have numbers ( 1,2,3...) counted from top to bottom.
Therefor has each tube in the database its own location
For enlargement and higher resolution please click at foto!