HIVAC The High Vacuum Valve Co. Ltd., 111-117 Farringdon Road, London E.C.1
HIVAV wurde bekannt durch seine Midget-Röhren. Der Begriff "Midget" heißt übersetzt "Zwerg". Sie hatten einen Durchmesser von ca. 15..20mm und eine Gesamthöhe mit Stiften von ca. 65 mm. The following Tube Substitute Paper shows the years 1937-1938.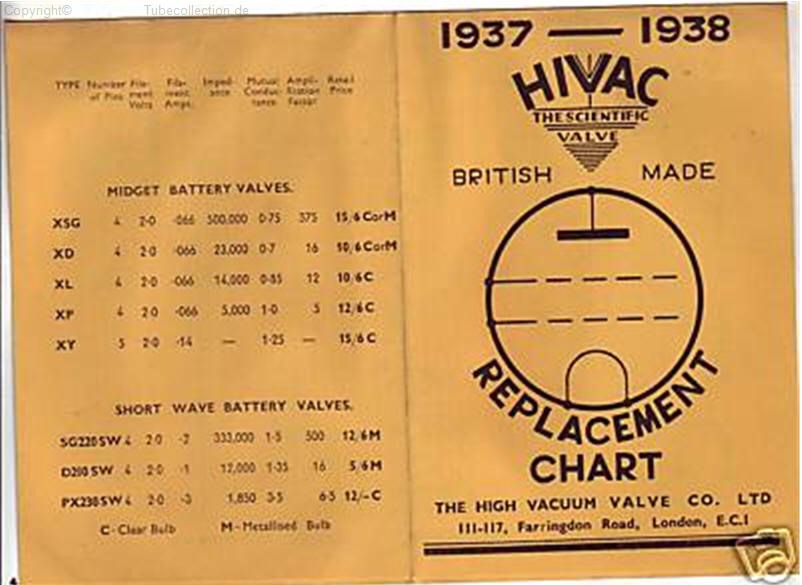 Es wurden aber auch andere gebräuchliche Röhren für den Rundfunkempfang, sowie Dekatrons, z.B. GS10D, und Kaltkathodenröhren z.B. XC31 hergestellt. Letztere Röhren waren in der "Anita"- Rechenmaschine im Einsatz.
Die "Automatic Telephone and Electric Co. Ltd." hatte 1939 großes Interesse an der HIVAC und bot entsprechende Einrichtungen zur Forschung und Entwicklung der Telekommunikation an.
1944, wurde "Automatic Telephone and Electric
Co. Ltd" dann der Haupteigentümer von HIVAC.
Zwei Firmensitze der HIVAC wurden genannt:
1958 Hivac Ltd., Greenhill Crescent, Harrow-on-the-Hill, Middlesex, England
1960 Hivac Ltd., Stonefield Way, Victoria Road, South Ruislip, Middlesex, England