Bereits 1925 erschien in der Radio News und zwei weiteren Magazinen Beschreibungen einer neuen indirekt geheizten Röhre. Eine Anzeige stammte von der McCullough Sales Company, die diese Röhren anbot.
Konstrukteur der Röhre war Frederick S. McCullough, ein Ingenieur, der bereits bei Westinghouse an indirekt geheizten Röhren gearbeitet hatte. Er verließ Westinghouse und machte sich mit der McCullough Sales Company selbständig.
Es ist nicht überliefert, wo er seine Röhren herstellte bzw. herstellen ließ.
1926 nannte er die Kellogg Switchbord and Supply Co. in Chicago.
1929 wurden sie von der A.C.Neon Corporation of New York City hergestellt.
Es gibt verschiedene Varianten in Bezug auf die Sockel und Stifte. Die Heizspannung wurde über die Anschlüsse oben auf dem Kolben zugeführt.
Hier zunächst eine Gruppe von AC-Röhren der Marken Rogers, Kelloggs, McCullough und Sovereign.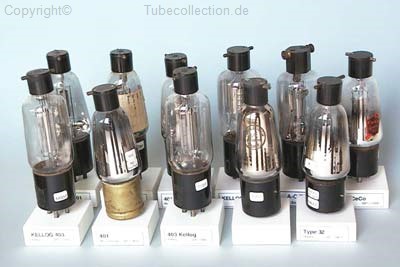 Die Sockel haben bei McCullough den "shaw base", 4 gleichlange dünne Stifte.
Nachfolgend einige Röhren dieser Art in meiner Sammlung.
Sollte jemand eine Fehler finden oder etwas zu ergänzen haben, so bitte ich um eine Mail.